Some reviews from happy doggy boarders!


"We are delighted to have discovered Iggy Haven Boarding Kennels.
We made a preliminary visit with our two whippets Korky and Phena and were impressed with the very dog-friendly, caring environment. Angela & Ernie's obvious love of dogs
and concern for their health, happiness and well being was evident.
We felt confident when we left the dogs in their care, knowing that they would be safe
and treated with kindness: Whippets are very sensitive and Iggy Haven is ideal for them.
The property is adapted completely to ensure the dogs feel at home, either in their own room or, when appropriate, with other dogs in the house.
We would highly recommend Iggy Haven and we intend to make this Korky & Phena's regular 'holiday home'."
Elizabeth & David Johnstone. Dunster.
---
"We are always so reassured when Phoebe is with you
as we know she is completely happy and totally spoilt".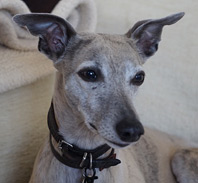 Tim and Vicky Osborne - Chippenham
---
Milo's review:
"I stayed with Angela and Ernie when my mummy and daddy
went on holiday without me for a couple of days.

I was a bit worried at first because there were other dogs there too but they were all very friendly and let me share their TV room
with them. I liked the back garden very much, especially the greenhouse,
and was allowed to lay in the sun as much as I wanted.
I was nice to Angela and Ernie and behaved myself on walks with them, not like I do
at home. They gave me treats of liver cake and even gave my mummy the recipe
so she could make me some at home, but sadly she hasn't made me any yet.
I hope they let me go back there again soon as it was really good fun!"
- Milo Beagle, aged 5, Porlock